We provide healthy meals, educational resources, & the red-carpet treatment to every person we serve.
Minnie's Food Pantry (MFP) is a nonprofit organization headquartered in Plano, Texas. We believe that overall wellness begins with healthy food and financial education. Our ultimate goal is to provide numerous programs that help families gain long-term food security and to break the generational curse of people (especially children) in low-income areas not having access to fresh fruits and vegetables
Minnie's Food Pantry is the voice for the  "hungry".
On April 1, 2008, we opened our doors and literally rolled out the red carpet to serve families in the community. Who are the hungry, they are senior citizens, veterans, and children. They are your friends and perhaps family. We have distributed food to people from all walks of life. We realized that hunger does not discriminate. People are forced to come to a food pantry because they can't afford food, an emergency health situation, or the pandemic which changed their entire financial situation. One thing remains consistent, we serve them with dignity and respect and we make sure that the food we provide is healthy and that it would put a smile on their faces when they sit at their dinner table.
We have expanded from our humble beginnings of a 500 square foot building to over 28,000 square feet of love and service to our community. We have four locations in three states. We have had over 40,000 volunteers to serve with our award-winning team. We believe our success stems from people who "GET IT" and understand that nobody should go to be hunger. We understand that "Hunger is Everywhere and So Are We!
With four locations in three states, Minnie's Food Pantry has provided over 15 million healthy meals to families in need. Guide Star Charity evaluators have given Minnie's Food Pantry the platinum star rating which is the highest level of possible achievement. Minnie's Food Pantry is a 501 C-3 organization. All donations are tax-deductible.
For program and sponsorship information, please email [email protected].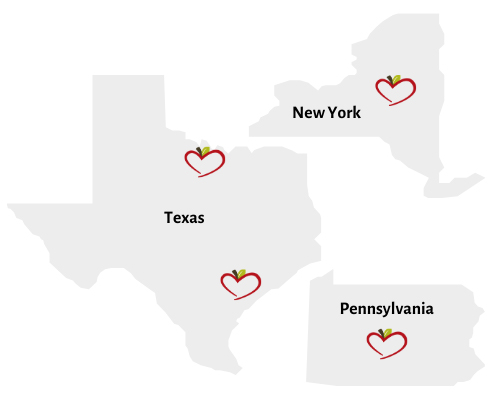 Cheryl "Action" Jackson is a keynote speaker, award-winning social entrepreneur, author, tv host, and producer. She has persevered from experiencing hunger to providing more than 15 million meals to children and families through her award-winning organization, Minnie's Food Pantry, a charity she founded to honor her mother, the late Dr. Minnie Hawthorne - Ewing.
Expanding her heart and Minnie's Food Pantry
Under Jacksons' leadership, Minnie's Food Pantry has expanded operations from leasing a small 500 square foot building to purchasing a 28,643 square foot building used to provide healthy meals, training classes, and hope for the hungry.
Cheryl Jackson & Oprah Winfrey
In April 2018, media mogul Oprah Winfrey joined Jackson's cause, she was the keynote speaker for Minnie's Food Pantry 10th annual gala.
In December 2018, Ebony magazine named Jackson one of the top 100 people in the world. Jackson has also motivated numerous celebrities like Mark Cuban, Jeffrey Katzenberg and DreamWorks, Mark Burnett, Roma Downey, Rihanna, Emmitt Smith, Kevin Bacon, Martha Stewart, and many others to donate to her cause.
Jackson brought the issue of hunger insecurity to the forefront on a local and national level through features on national television shows like ELLEN and Good Morning America where she was honored with the Home Town Hero Award by singer Rihanna, Steve Martin and Jim Parsons who also came to serve with her.
Other media outlets include Steve Harvey, Essence, Jet Magazine News, CBS The Talk, TBN, and she was featured on the documentary Hunger Hits Home by the Food Network.
Jackson's heart for people makes it easy for her to "take-action" during times of need. During the devastation of Hurricane Harvey, Jackson leads truckloads of food, toiletries, clothing, and supplies to those affected by the storm. She is the voice for the hungry.
She is passionate about speaking not to just motivate but to also activate her audience into action.
She has been the keynote speaker for fortune 500 companies like AT&T, Capital One Bank, Experian, JC Penney, McDonald's, Mercedes Benz, Macy's, and hundreds of conferences, schools, and organizations.
As a media correspondent Jackson has interviewed A-list celebrities like Oprah Winfrey, Jennifer Garner, Jennifer Lopez, Will Smith, Viola Davis, Bishop TD Jakes, Magic Johnson, and numerous others. Jackson is a published author.
She resides in Texas with her husband of 34 years. She has two sons and daughter-n-loves and 5 incredibly beautiful grandchildren.
Volunteering with your co-workers is a great way to build camaraderie and teamwork. We welcome corporate groups of all sizes to volunteer at Minnie's Food Pantry.