We partner with school districts to deliver food and put pantries inside of schools.
We know the importance of fighting childhood hunger.  Through our partnership with school districts, we are able to provide healthy meals to thousands of families with our mobile meal distribution sites at local schools.
Minnie's Food Pantry goes into the community to meet parents and their children with meals to take home on weekends and during school breaks.  Our goal is to provide children at-risk of hunger with nutritious, easy-to-prepare food for preparation and consumption at their place of residence and to distribute nutritious, wholesome food in a caring, discreet manner.
Thousands of children in our community receive free or reduced meals through their school's program.
Every year, we provide healthy food to children, so they are able to build the skills to be whatever they want to be in life.  The programs target school-aged children under the age of 18.
Before the pandemic, we bused kids to visit Minnie's Food Pantry. Our goal was to help break a generational gap and show them they can truly make a difference. We are thrilled to welcome children back into our pantry just as soon as it's safe!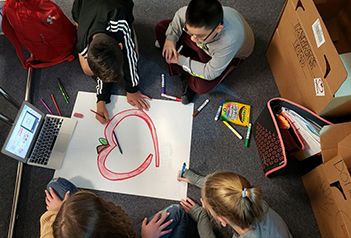 Volunteering with your co-workers is a great way to build camaraderie and teamwork. We welcome corporate groups of all sizes to volunteer at Minnie's Food Pantry.