Serving families with dignity, integrity and respect.
When the pandemic arrived we had to change the way we serve our community.  For years,  we took pride in offering the red carpet treatment to the families that we serve.
Minnie's Food Pantry started our contact free serving experience.  We went from rolling out the red carpet to providing meals to our families with a state of the art drive-thru service.  We understand the importance of safety for the our employees and the families we serve.
We greet every car with a smile and healthy meals to put in their car.
We ask that the trunk is empty so we can put the food in the trunk and prevent little to no contact.   We practice social distancing and we periodically we offer free PPE supplies  to the families we serve.
Our hours of operation are Wednesday-Saturday 8:30am-11:30am.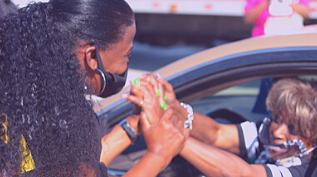 $1 Provides 3 Meals
Will you help us continue to provide meals?
Volunteering with your co-workers is a great way to build camaraderie and teamwork. We welcome corporate groups of all sizes to volunteer at Minnie's Food Pantry.